You are at the home of the EZ Clamp Spring for a Brompton bicycle. A small widget that fits in both the frame and handlebar hinges.
---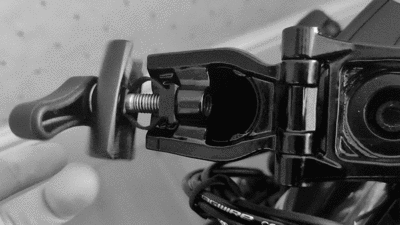 ---
A review of the EZ Clamp Spring from Everyday Cycling:
---
This spring, when 3D printed in TPU, will turn any Brompton Hinge Clamp set into an EZ Clamp.
It will push away your clamp plates and help prevent them from rotating.
Aligns your clamp plates automatically when tightening your hinge.
Key features :
• No change to any original Brompton parts so you maintain the original quality guarantee and confidence.
• Keeps rotational alignment of original Brompton clamp plates with hinge.
• Visual indication when clamp plates are releasing the hinge.
• Increased speed of the fastening and unfastening process.
• Helps prevent frame paint damage.
• Helps prevent clamp plate damage.
• Helps prevent vibration unfastening during folded transit.
• Clamps are still removable for hinge protection during rough transit.
• Fits in the small void between the hinge faces.
• Compatible with Brompton Tool Kit.
• Weighs less than 1g each.

Please Note:
The EZ Clamp Springs are not compatible with the older Brompton thinner hinges (Pre-2004 click to see image)